As I said in my Apple's Far Out event post, this year is my iPhone upgrade year. Coming from iPhone 12 Pro, the iPhone 14 Pro is not that huge of an upgrade. But it's different enough for me to have a few things to say about it.
Pre-order
The pre-ordering experience itself appeared to have gotten quite an update. After the announcement, I could pre-configure the phone with all the details from obvious ones like color and storage to carrier and even the payment method to use. This pre-order "staging" flow gets a big thumbs up from me.
As for the pre-order itself, I seemed to have won the CDN lottery which let me in right at the top of the hour. So I had the phone arriving on release day. I went with a Deep Purple one with 256GB of storage.
Setup
The conventional wisdom these days when it comes to setting up a new iPhone is to do the direct iPhone-to-iPhone transfer. I had used up about 180GB on the old phone and the initial estimate for the transfer was 50 minutes. Not too bad. Turned out that estimate was surprisingly close to reality: it was done in just over an hour and pretty much everything came over just fine. Apps needed to be re-downloaded but all of the login info, preferences, and game progresses were in place, except a couple of stragglers.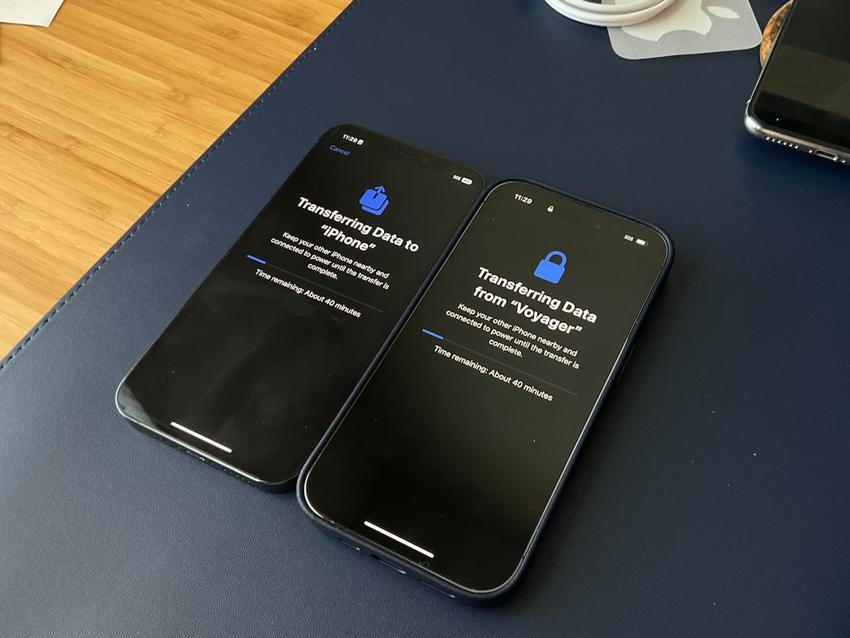 What did not go so well was the Apple Watch transfer. I decided not to upgrade this year so I just needed to transfer over my Series 6. During the setup process, it asked me if I wanted to transfer my watch over to the new phone which I promptly said yes to. After the transfer was done and the phone was usable, I got this alert saying that there was an important software update to address iMessage and FaceTime activation issue. Wanting to avoid this and then forgetting that my watch was being transferred, I foolishly went ahead and ran the update. And sure enough, that completely messed up the watch. So I had to hard reset the watch and re-paired it from scratch. Fortunately all the watch faces I had previously were restored.
Chassis
The Deep Purple color looks pretty muted, you wouldn't be able to tell it's purple unless it's in bright sunlight. I really hope one day Apple will make pro iPhones in fun colors.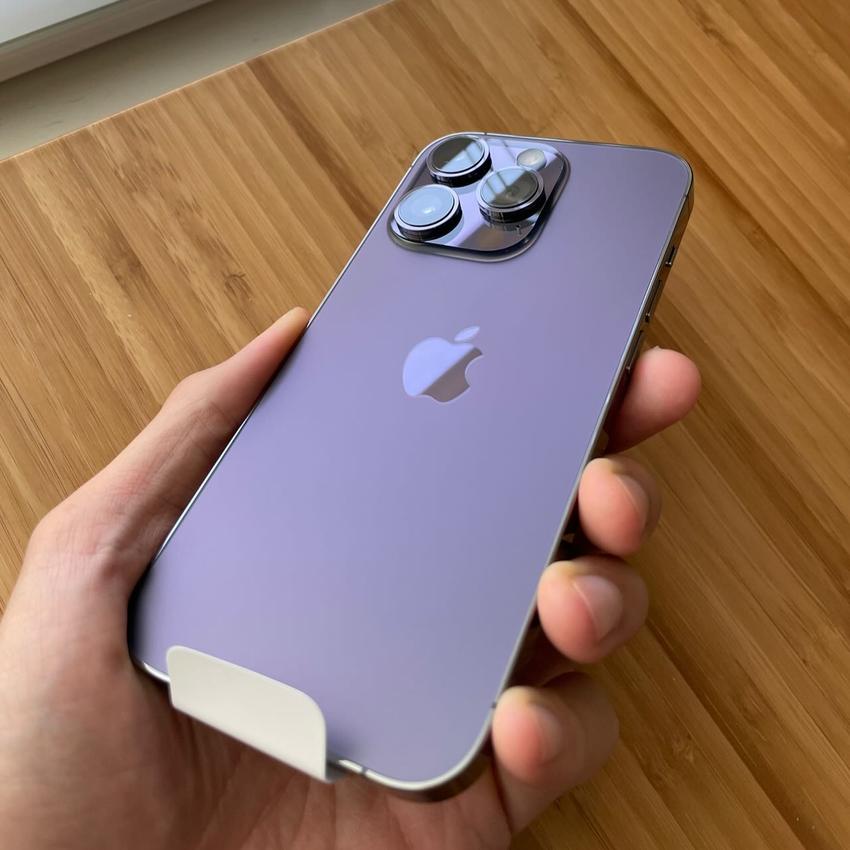 Comparing to my iPhone 12 Pro, the iPhone 14 Pro is 0.8mm (0.03") taller, 0.45mm (0.02") thicker, and 17g (0.61oz) heavier. The increase in weight was noticeable right away and I wish the iPhone would stop getting bigger. But that's not even the worst part. This phone is 7.85mm thick, which honestly isn't that thick, but that is only for the phone body, ignoring the camera "mesa" and the lens "turrets" protruding out of it. The height of that "bump" alone is more than half the thickness of the phone body! There is no way to lay this phone flat even with the case on. I hate it so damn much.
Display
The first time I noticed the dimmed always-on lock screen, I thought that the phone wasn't locked. So I instinctively pressed the lock button expecting the screen to turn off but instead it lit back up. And when I was aware that it's supposed to be on, I expected that I could interact with the lock screen widgets or swipe down for Control Center, but in reality I first have to tap it to wake up the screen from the dimmed state, and then I could interact with it. So that took a bit to get used to. One exception to this is that if you swipe up to unlock the phone when it's in a dimmed state, it will try to do the Face ID unlock, so that's a nice touch. All these I have since gotten used to in about a week.
One aspect of the always-on display that I had forgotten to consider was around bedtime. As I put the phone on my nightstand when I go to bed, the always-on display would be entirely too bright even in its dimmed state. One easy solution is to just put the phone screen side down. But that would be impractical if you use a MagSafe charger or a regular Qi wireless charging pad. The best solution to this is to enable the Sleep Focus mode as it will automatically disable the always-on display. Oddly enough, while there is a Shortcuts action to set the Apple Watch always-on display mode, there is none for the iPhone. This is quite a glaring miss on Apple's part and I do hope they will add this in a future software update. It would be nice to have for those who don't want to use the Sleep Focus mode.
The ProMotion display was immediately obvious as soon as I picked up the phone. This was something I always noticed and wished I had every time I had to use Jess's iPhone 13 Pro Max. I love it, everything just looks and feels so smooth. The difference feels almost to the level of going from non-Retina display to Retina display.
The 2000 nits peak brightness was also really handy the handful of times I was out in super bright sunlight.
Dynamic Island
The outline around the Dynamic Island and the instruments inside were more noticeable than I expected, even with indoor lighting. But I have since gotten used to that and don't see it anymore.
Since the introduction of the notch with the iPhone X, I formed a habit of tapping on that area as a shortcut to scroll to the top of a list or webpage. But now if I have an active Live Activity session like music or timer, tapping on the Dynamic Island just sends me to the app for that activity instead of scrolling up to the top which was pretty jarring. I had to adapt to tap on either side of it instead.
Unfortunately the Live Activities API wasn't available until iOS 16.1 which was just released earlier this week. So there wasn't much interaction with Dynamic Island in the weeks I've had this phone. I'm sure in coming weeks and months we'll start to see a lot more apps utilizing this.
Camera
The new camera system is a substantial upgrade from my iPhone 12 Pro. The picture quality and low light performance are noticeably improved. I love that the 48MP sensor allows for a decent 2x digital zoom at 12MP. So now we have four focal lengths we can shoot at with 0.5x, 1x, 2x, and 3x at a good resolution.
Shooting 48MP is limited to the ProRAW mode and when doing so I could notice some sluggishness with the camera. I sometimes have to wait for a split second between shots for it to process, so I can't shoot them in as quick succession as I'd like. And previewing the photo usually takes a few seconds to become available. I'm a bit disappointed by the performance here given how great Apple touted their new A16 chip to be. I don't know what the bottleneck could be, perhaps it's the memory bandwidth. The phone also gets hot pretty quickly after shooting several 48MP photos in quick succession. This definitely will affect battery life.
But that is by no means a deal-breaker, I still love the fact that with 48MP I could crop and reframe the photo to how I like it. The size of these ProRAW DNG files comes out to around 80-90MB which is pretty hefty. I'm used to working with my 20MP Canon EOS 6D's 20MB RAW files so I'm gonna have to be a bit more mindful of how fast I'm filling up my phone storage with these.
Overall I am really happy with the incredible image quality this camera system produces. Below are some of the photos I took over in Rocky Mountain National Park using Halide. These are straight out of the camera with no post-processing done by me.